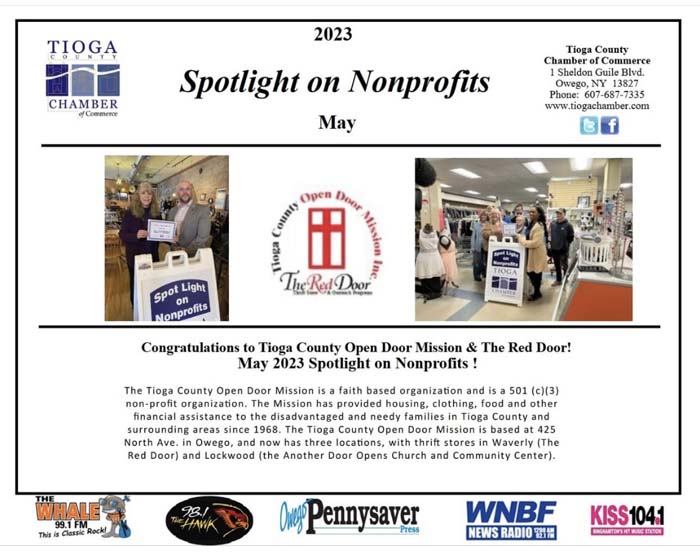 Summer is in the air! Schools are wrapping up for the year and the temperatures are getting warmer! And here at The Open Door Mission/The Red Door/Another Door Opens, summer will bring some changes to our organization that we can't wait to fill you in on!
But before we do that, we don't want to bury the lead, which is…
We've been selected by the Tioga County Chamber of Commerce as their Spotlight on Non-Profits for the month of May! We are honored to receive this recognition for our efforts in serving residents in the Owego and Waverly areas. Led by our Executive Director Shannon Hilliker, our dedicated staff will continue to offer outreach services to those in need in our area.
And now for those changes…
Over at The Red Door in Waverly, we will now be open on Friday nights until 10PM! We are planning some special events during the summer, so stay tuned to hear more about them!
And we will now be picking up donations of furniture and large appliances the last Thursday of every month in the Valley! If you are a resident of Waverly, Sayre, Athens, or South Waverly, just give us a call at 607-687-1121 to schedule your pickup. Non-furniture donations can be dropped by the Red Door every Friday.
Also, don't forget about our popular Open Mic event every Saturday at The Red Door from 11AM until 4PM. Drop by and listen to some great music from talented local musicians, or bring your own instrument and join the fun!
Need a venue for your summer events? Whether it be a family reunion, a wedding, showers, christenings, community events, meetings, you name it, we've got the place! You can book Another Door Opens simply by calling 607-687-1121. We do not charge a booking fee, but gratefully will accept your donation. Another Door Opens, located in the former Lockwood Methodist Church, boasts a sanctuary area, a community room and kitchen, and outdoor space as well.
Have a wonderful summer!